Phytosanitary certificate / plant passport
THE CERTIFICATE AS A QUALITY GUARANTEE
The certificate guarantees:
The absence of degenerative diseases: viruses, viroids, phytoplasm…
The authenticity of the variety: i.e. compliance with the standards laid down in the Official Catalogue
Compliance with European regulations: phytosanitary passport and European agricultural conformity.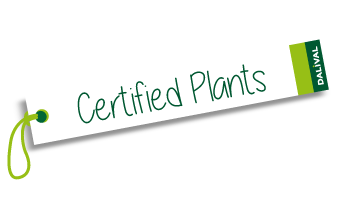 INRA / CTIFL CERTIFICATE
The "Official certificate" is placed under the authority of the French Ministry of Agriculture, together with INRA, CTIFL*, the National Plant Protection and a commission of fruit growers and nurserymen. The following is necessary to produce certified plants:
Certified rootstocks and graftwood material
Strict specifications
The chosen plots must fulfil precise criteria and they are subject to regular controls in order to determine the authenticity of the variety and the sanitary state during the production. Each certified tree has an individual numbered label. Label compliance is controlled before lifting the trees from the nursery.
Several years are necessary to set up the certification process for the new varieties. Therefore new varieties are not certified INFEL.
*The CTIFL:
In cooperation with French and international research centres, as well as regional experimentation stations, the CTIFL researchers carry out practical research works and report on technical and technological advances to professionals:
Study of new varieties and new products
Optimised production systems to reduce costs: innovative systems in orchards, design and use of glass houses, machinery…
Plant protection and control of the intrants in order to respecting the environment: integrated production, alternative techniques, functional biodiversity, water protection, energy savings…
Conservation control of species and fruit varieties
Chill and relative humidity control for fruit
Qualitative analysis: sensory, aromatic and nutritional throughout the production and marketing process of the products
Food traceability and safety